Depilex beauty salon is one of the most famous well recognized salon and training institute in Islamabad with highl qualified internationally trained staff. Best trained make up artist are working hard to provide you valued results. Hair stylists and beauty therapists in all over Pakistan have their roots associated with this well know and prestigious institute. This is only beauty salon in Islamabad which has foreign affiliations. Depilex Beauty Salon in Islamabad is providing valuable services across Pakistan.
Depilex has made lots of achievements and got lots of affiliations and awards.Mehndi dresses and walima dresses are also focused with elegant make over. Depilex beauty salon is affiliated with lots of famous institutes like city and Guilds, ILO skill development institute, got professional diplomas from well recognized institutes in Canadian, UK, US and Australian. Depilex salon offers lots of professional, personal grooming and advanced courses. Four and half months professional training courses are offered at Depilex. These list of courses is recommended to every individual who wants to become a professional and start their own salons. Three professional diplomas are provided by Depilex i.e Hair styling, make up and skin care aesthetics to become a trained artist in this field. City and Guilds diplomas are also offered in different courses. Theory, demos and practicals classes are also offered at Depilex. Equipment kit and professional tool kit is also offered by Depilex. Depilex also has a health care center that offer different health related programs. One of the famous program offered by Depilex health care center is Zumba. They teach you moves that are easy to follow and an amazing fitness program. This program is being taught in almost 105 countries that includes 60000 locations where people can learn Zumba. World wide 7.5 millions are participating in this famous fitness program.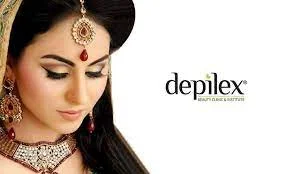 Mussarat Misbah has supported lots of burning victims. She has trained them and gave job opportunities at her salon. One of her trained professional is shown in above picture. Sabira Manzoor is 31 years old is working with client name Bushra at Islamabad branch of Depilex salon. Almost 15 years go, her husband put kerosine oil on her and burnt her brutally. She had done 30 face surgeries and now she is feeling better. She is working at Islamabad branch of Depilex beauty salon as beautician.
Location of Depilex Salon Islamabad on Map:

Also Read These: