Here is complete guide to delete Easypaisa account in Pakistan. Easypaisa is one of those popular payment services that are becoming increasingly popular with small businesses nowadays. It is one of the most popular portals in Pakistan. It is a mobile wallet powerful payment app that lets you pay without having to carry any cash. EasyPaisa is a money transfer platform offering fee-less money transfers in Pakistan. The platforms are also disbursed through digital wallets and internet banking to customers from Pakistan.
The application and its user's information are completely safe and secure. All your financial transactions are fully protected by a dedicated fraud protection mechanism. You will be able to use the application without any fear of your data being accessed or modified. With the help of a unique fraud protection mechanism, ensure that no one will be able to steal your money or identity. The application is very easy to use, it has a very simple and intuitive interface which makes it easy for you to handle all your financial transactions with complete confidence. It's 100% free from any security threats, so you can freely access your money anytime and anywhere.
Here are the details that how to delete Easypaisa account
From Mobile:
Dial 3737 on your mobile phone if you are a Telenor customer. Customers on other networks should contact the Easypaisa helpdesk at (051) 922-440-384. Speak to a customer support agent. They will cancel your registration after they complete the verification procedure.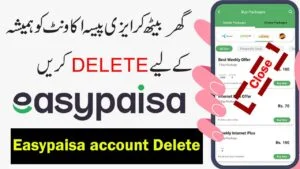 Procedure for Telenor users: 
Withdraw or transfer all amounts from your account
Telenor users can dial 3737 from their mobile
Talk with the Customer Service Representative
Request to close the account permanently
Provide details to a customer service representative to confirm your account ownership.
Your account will be deleted after the verification
Procedure for Other Network Users:
Dial (042) 111-003-737
Talk to CSR and provide details
Request CSR for Account Closing
Give details for account ownership verification
Your Account will be deleted after complete verification.
By Visiting Microfinance Bank:
Telenor Microfinance Bank is the most preferred bank for Easypaisa customers. Customers may apply for the closing of their accounts either at a Telenor branch or a Telenor franchise.
Procedure:
Visit Telenor Franchise or Telenor Microfinance Bank
Fill out the Account Closing Form and attach a copy of your CNIC.
Verify Details
Withdraw or transfer all amounts from account
If you wish to delete Easypaisa account then you can easily delete it by following the steps. Log in to your easy paisa account from your desktop or laptop. Then select the menu option "My Account" and click on "Settings" then click on "Delete Account".
Advantages of deleting unusual Easypaisa account
The advantages of deleting unused account are many.
You are able to reduce the number of accounts that you have and consolidate them into one easypaisa account (the one you actually use). It is profitable to delete easypaisa account if it is beyond usage.
This will give you peace of mind knowing that you only have one account to worry about when it comes to keeping track of passwords and user names.