How to Remove Caller Tune from Jazz? If you're tired of getting calls from your friends, family, and co-workers with the same old ringing tone, then you might want to consider removing Jazz Caller Tune from your landline or cell phone plan. Although caller tune is optional and only requires a small monthly fee to activate and maintain, many people find it obnoxious and choose to remove jazz caller tunes using one of several options at their disposal. In this article, we'll examine how to remove the jazz caller tune from your service plan.
Removal of caller tune is a simple task and can be done by anyone. You just need to follow a few steps and delete your caller tunes. The following instructions are for getting rid of the jazz caller tune.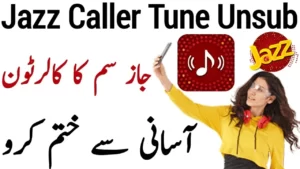 How to Subscribe and remove Jazz Caller Tune?
You can subscribe and remove jazz caller tunes in the following ways:
If you want to subscribe to jazz caller tune dial 230 or text "sub" and send it to 230.
If you want to unsubscribe or remove the jazz caller tune call 230 or text "unsub" and send it to 230.
The daily rate for ringtones is PKR. 2.01 per day by dialing 2301 IVR is PKR. 0.72 per minute.
2.84 per minute is the cost of an IVR call.
7.99 + VAT SMS charges.
Dial *2302*1# to unsubscribe from the jazz caller ringtone.
Dial *2302*1# to unblock the jazz caller ringtones.
Term & Conditions:
Below are the term & conditions of jazz caller tune:
Prepaid and postpaid both customers can avail of this offer.
If you have activated mobi tunes, and apni dhun you will be charged for both.
Warid customers do not have access to the apni dhun position.
Conclusion:
The process to Remove Caller Tune from Jazz is not so complicated, but still, you should follow a few important steps. We have shown you how to remove the jazz caller tune using your mobile phone. This will help you get rid of annoying default sounds on your device. So enjoy your favorite ringtone and make sure that you can hear it. If you have any questions about removing the jazz caller tune then feel free to leave a comment below and we'll try our best to answer it for you.